---
Electrostatic Spraycoating Machine CORESOL 800 EB
for applying soldermask or resists on circuits, PCB´s, LCD´s and other flat substrates, exspeciallly with high structures.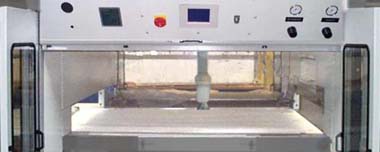 The plant consists of :
Infeed area with belts
Spray cabine
The spray area
Control and Touchpanel
Belt transport system

Cleaning- and Recoveringsystem
High rotation bell
Exhaustsystem
Outlet-transport
---
The CORESOL system sets new standards of quality in the electrostatic liquid resists coating of circuit boards.
The process of the CORESOL concept meets the requirements of
complex circuits and

the HighStructureTechnology ( 500µm)

future solutions for structures with minimal pitches.
High speed rotary atomizer.- Universal employment in the production with unbeatable atomizing characteristics.The head of CORESOL technology is the high-speed rotary atomizer. Using the eletrostatic method, the spray pattern is governed by the controlled structure parameters, i. e. volume of lacquer, high-tension, rotation speed, spraying distance and the electrostatic field forming electrodes.
Absolutely homogeneous atomizing quality.
The compressed-air driven high-speed rotary turbine was specially developed for this purpose. Unintentional variations of the spraying pattern are impossible. The speed of rotation ot the virtually maintenance free turbine is constantly controlled. Due to the exact dosing and speed control an optimal atomization for a wide range of flow rates and also for High solids can be ensured. The high-tension technology is designed to eliminate any edge interference, field interference or counterpotentials.
Perfect voltage regulation during the whole production sequence enables fully automatic operation.
The infinitely variable high-voltage supply guarantees unwavering tension, independently of the workpiece being treated. Control is effected through a high-voltage characteristic curve with variable workingfield and spray-field limitation, and includes safety shut-off features in compliance with existing legal requirements.
The dosaging technique saves time and material and raises the standard of precision.
The volumetric dosaging technique supplies the spraying system continuously and precisely. The dosagings are reproducible. The DC-motor driven precision pumps run at absolutely constant speeds and are continuously adjustable.
Rapid lacquer change
The supply concept guarantees simple flushing ability and quick change of colour. The spray head supply is provided by pumps, one for each colour. A controlled and quick colour change is therefore possible by simply switching to the required proportioning system.
Simple handling
A flushing system using a pressure tank is integrated in the paint supply unit, working directly onto the spray head. Head-flushing operates separately. The lacquer supply is installed immediately below the spraying area and is taken directly from the original drums delivered by the paint supplier.
Designed for most diverse lacquering systems
CORESOL can handle a wide range of lacquer and varnish products. The proportioning system is designed to cope with even highly conductive lacquer types.
Electronically controlled dosaging pump